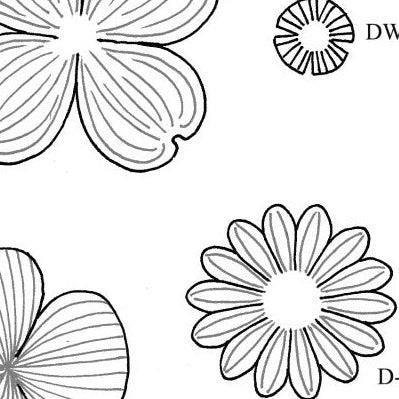 Free Leathercraft Pattern for Simple Leather Flowers by Annie Libertini
Elktracks Studio
About This Pattern
 Award-winning leather artist Annie Libertini has conducted a series of online workshops with Elktracks Studio, sharing the secrets and techniques she uses to create beautiful three-dimensional flowers from leather. 
For anyone just getting started with sculpting flowers from leather, this video is a great place to start! It demonstrates three different simple leather flowers (a dogwood, a poppy, and a daisy), and is a great introduction to our series on how to craft leather flowers with minimal leathercraft tools. This is the pattern that was used in the class.
Students of the class were extremely complimentary to Annie's skill, but also the quality of instruction, and how simple she made the process seem.
This pattern was originally created to be used with the video workshop, Simple Leather Flowers. We'd love to see what you make from it in our online Facebook group Elktracks Studio Creations.

Video Associated With This Class
Simple Leather Flowers with Annie Libertini
Customers Also Bought
3-D Leather Orchids with Annie Libertini
3-D Leather Lilies with Annie Libertini
3-D Leather Sunflowers with Annie Libertini
Digital Download or USB
All of our patterns are offered in a downloadable PDF format. If you would like to be mailed a USB with your video(s) and patterns on it, add a USB Flashdrive to your shopping cart. Check out our FAQ Page for general download troubleshooting.